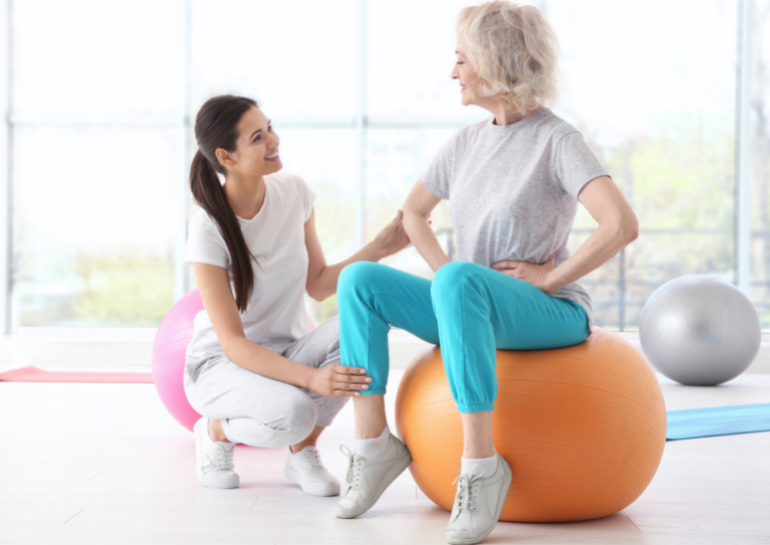 Physiotherapy, also known as physical therapy, is a widely used treatment to effectively improve and restore the quality of movements and functions of individuals with injury, illness or disability. Physiotherapy also aids in the prevention of injuries and maintenance of health.
Is there a difference between Physiotherapy and Occupational Therapy?
The distinct difference lies in that Physiotherapy focuses and works on individuals' mobility, using appropriate exercises and techniques. On the other hand, Occupational Therapy focuses on helping individuals perform daily age-appropriate tasks and activities through assisted devices, environment modifications, etc.
Who Does Physiotherapy Benefit?
Physiotherapy benefits people of all ages. At Dynamics Physiotherapy, we treat issues and conditions faced by adults and children, such as:
For Adults
Musculoskeletal Conditions. E.g. lower back pain, frozen shoulders, knee arthritis, carpal tunnel syndrome, etc.
Sports Injuries. E.g. Rotator Cuff Injury, Tennis Elbow, ankle sprains, knee injuries or any other acute soft tissue injuries caused by sports-related accidents
Orthopaedic Conditions. E.g. fractures, osteoporosis or any other bone conditions
Neurological Conditions. E.g. stroke, Parkinson's disease, traumatic brain injury or any other neurological conditions that cause movement disorders
For Children
Cerebral Palsy
Brain Injuries
Autism Spectrum Disorders (ASD)
Developmental Delays and Disorders
Muscular Dystrophy
Spinal Cord Disease
Gait-related Issues. E.g. Toe Walking, Pigeon Toe Walking, etc.
Bow Knees and Knock Knees
Pre- (Prehabilitation) and Post-Orthopedic Surgery
Activity-related Growth Plate Injuries (lesions in knees and feet). E.g. Sever's Disease
Sprains and Fractures
In the next few sections, we will answer commonly asked questions, such as where to find a good Physiotherapy clinic in Singapore, the cost of Physiotherapy treatments in Singapore, factors to consider when looking for a suitable Physiotherapy clinic and what you can expect in your Physiotherapy sessions.
Where Can I Find a Physiotherapist in Singapore?
MediaOne has listed and ranked the Top Physiotherapy Clinics in Singapore.
Dynamics Physiotherapy is honoured to be named one of the best Physiotherapy clinics in Singapore! Our dedicated team of trained and experienced Physiotherapists always ensure that they use best practices and person-centred treatment plans that are customised to the unique needs and defined goals of every individual.
What Is the Cost of Physiotherapy Treatment in Singapore?
Physiotherapy in Singapore, which includes consultation and treatment, generally cost between S$110 to S$200 per session. The average cost will vary as it depends on the subsequent treatment(s) required, seniority level of the physiotherapist, and/or service delivery model. For example, home-based services may be slightly more expensive since the overall charges will include the physiotherapist's travelling time and expenses.
Learn more about Dynamics Physiotherapy's charges here.
What Factors Should I Consider When Looking for a Physiotherapy Clinic?
Before deciding on the Physiotherapist, you may wish to consider the following factors to help you make a more informed decision:
Qualifications and Registration. Check the physiotherapist's qualifications and accreditations. Physiotherapists practising in Singapore are required to be registered with the Allied Health Professions Council (AHPC) and they are regulated and governed under the Allied Health Professions Act.
Relevant Expertise. Look for a physiotherapist who has the expertise and experience to treat the issues you are experiencing. For example, if you have sacroiliac joint pain, it would be best to consult a physiotherapist who specialises in musculoskeletal conditions.
Types of Treatment Used. Do find out the types of treatment methods used by the clinic to see if there are any methods that you are uncomfortable with or have been recommended by other professionals not to undertake.
Location of the Clinic. This can be an important consideration as it will affect the speed, time taken and accessibility of your treatment. For example, individuals whose mobility are hindered may experience difficulty in travelling to the clinic if it is inaccessible or far away.
Privacy of Treatment. The availability of private rooms allows for comfortable treatment and discussion of your condition with your physiotherapist.
Waiting Period. Check if the clinic has a waitlist. A long waiting list would mean that you would have to wait for a long time before you get to meet your physiotherapist or experience a long interval before your next visit. Such delays may be detrimental in cases where timely treatment is required.
Up-to-date and Appropriate Equipment. Are the equipment used dated and not in good working condition? The quality of the therapy equipment plays an important part in the quality and effectiveness of your treatment.
What Can I Expect in a Physiotherapy Session?
During our Physiotherapy sessions, Dynamics Physiotherapy applies appropriate therapy techniques, educates individuals, parents and/or caregivers on ways to maintain overall physical health and functionality, offers professional recommendations as well as conducts ongoing evaluations to measure progress against the defined goals. Each of our sessions is about an hour long.
For Adults
Physiotherapy for adults can involve several treatment methods, depending on the individual's needs. Our Physiotherapist will implement a combination of treatment techniques and physical modalities. These techniques can include manual therapy, Electrotherapy, Kinesiology Taping and Strapping and core stability training, among others. Our Physiotherapists also provide mobility aid training, such as the use of crutches, and weight management advice.
For Children
As a child's physique and needs are different from an adult's, physiotherapy for children requires a specialised set of skills and experience to effectively treat issues faced by children. Our Physiotherapists are trained and experienced in paediatrics and our treatment caters to children and adolescents from birth to 18 years old.
Each child's therapy session is tailored to their specific needs and unique learning ability. During the sessions, our Physiotherapist will build rapport with the child and implement age-appropriate exercises to target problems areas and improve abilities and skills, such as flexibility, strength, balance, endurance, gross and fine motor skills and motor planning. Our Physiotherapist will use multiple techniques, which include movement training, flexibility exercises and adaptive play, to improve the child's strength, balance and coordination and flexibility, among other essential skills.
Bonus Tip! How Do I Prepare for My Physiotherapy Sessions?
Here are some things to take note of to help you be better prepared and ensure a more productive Physiotherapy session:
Prepare questions to ask or discuss with your physiotherapist, especially on your first visit. Your physiotherapist will be more than happy to answer your questions and clear any doubts you might have.
Bring along any doctor's referrals or pertinent information about your medications for your first visit.
Be punctual. Being late can put you in a hurried mode and also reduce your treatment duration.
Be appropriately attired — opt for loose-fitting and comfortable clothes. For example, wear shorts if you are being treated for a leg condition.
Have sufficient rest the night before the session.
Be sure to complete the "homework", if any, given by your physiotherapist.
About Dynamics Physiotherapy
Dynamics Physiotherapy is situated in the heart of Orchard Road and is conveniently accessible by bus, train and car. Our centre is equipped with state-of-art equipment and enclosed treatment rooms for added privacy. With no waitlist, we can extend timely and personalised care and attention to every individual.
Our Physiotherapists are highly trained and have extensive experience in treating various conditions, and are also registered with Singapore's Allied Health Professions Council (AHPC). They are committed to providing high-quality, inclusive and empathetic support and care. They also work hand-in-hand with Dynamics Therapy Group's in-house multidisciplinary team of healthcare professionals to ensure seamless and hassle-free integrated therapeutic care.
Dynamics Therapy Centre for Kids is also excited to be listed on Rating.sg in 2022. Click on the badge to see our listing.
Furthermore, we are also excited to be listed on Wise Move's website! Click on the badge to see our listing.